Where my husband preaches
A note from Jonnie, W4AW - husband of Gail
It's great for a ham (amateur radio operator) to have a spouse who is also a ham. Gail tolerated my amateur radio hobby for several years, never quite understanding why I needed that HF rig when I already had a 2 meter mobile or a new VHF antenna when I could talk all over the world with a wire. However, back in 1995 after 19 years of marriage Gail decided to study for her technician ticket and take the exam. You might think I was very happy. And, you would be right if I had known about it. However, Gail didn't tell me. She decided to surprise me on my birthday. She passed her exam two days before my birthday.
It just so happened that our local ARES (that's Amateur Radio Emergency Services) group was going to have our regular monthly meeting on my birthday. Almost everyone in the group knew that Gail had passed her exam. But I was still in the dark. As meeting time approached Gail informed me that she was not going to the meeting with me. So I went alone.
As the meeting progressed Gail and our children showed up with a cake and a card. On the cake were written the words, "I did it!" "I did what"? I asked "Just opent the card," she replied. The card read, "If this doesn't knock your socks off, nothing will!" Naturally I asked what she was talking about. But she just smiled! Then she told me to read the paper, which I had not noticed up to that point, that came with the card. Boy was I surprised. It was . . . . her CSCE (Certificate of Successful Completion of Examination). She had passed her tech. Well, I was completely overwhelmed. Not in my wildest dreams could I have imagined such a surprise. And, by the way, I never did find my socks!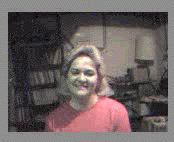 A picture of Gail
Hmmm, maybe I can actually get Gail to do something with this page someday. Click on the image below to email Gail.